Google Street View Trusted is a state-of-the-art 3D interactive walkthrough tour for business interiors that utilizes Google's Street View technology. Proudly display your business, while inviting potential customers to walk around, explore and interact with your working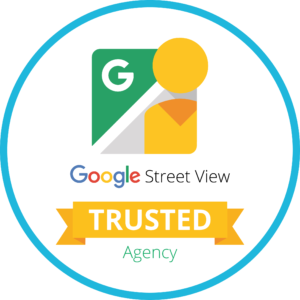 space like never before. Google Street View Trusted also allows your regular customers to gain an insight into your business, helping them engage with your brand virtually, from anywhere in the world.
Benefits
Getting your customers to engage with your business is vital for generating initial investment in your service or product. If they trust your brand, then they will trust your service. Boost this engagement by simply showcasing the ambiance, design, character, décor and the qualities that are unique to your business.
Influence Customer Decisions
Humans are extremely visual, and in the virtual world, businesses rely on graphic design and quality content to appeal to their customers. Adding value with a visual representation of how you work, and where, engenders a sense of transparency and confidence in your business.
Increased Sales
Incorporating a solid visual display of where you work is can greatly impact your sales. Virtual tours achieve over 5 million visits a day, and sites with an embedded tour can receive up to 40% more views than competitors who lack interactive media. A staggering 82% of people surveyed stated that being able to visit a business site virtually would be a deciding factor in their custom.
Stand Out
With Google Street View, you can show that your finger is on the pulse of brand new technologies. Demonstrate to your customers that your business is able to adapt and innovate with current trends, and move with the digital revolution.
Services
Clear Vision Media is a content creation production company specializing in integrated SEO, Content and Social Marketing. We combine smart perceptiveness, creativity, and mechanical expertise to earn businesses exceptional on-line coverage.
Social Media Promotion
Creating great content is only half the battle. We help coordinate organic and paid content promotion that cuts through the social chatter and inspires your customers to take action.